Heated Wire Circuit - Neonate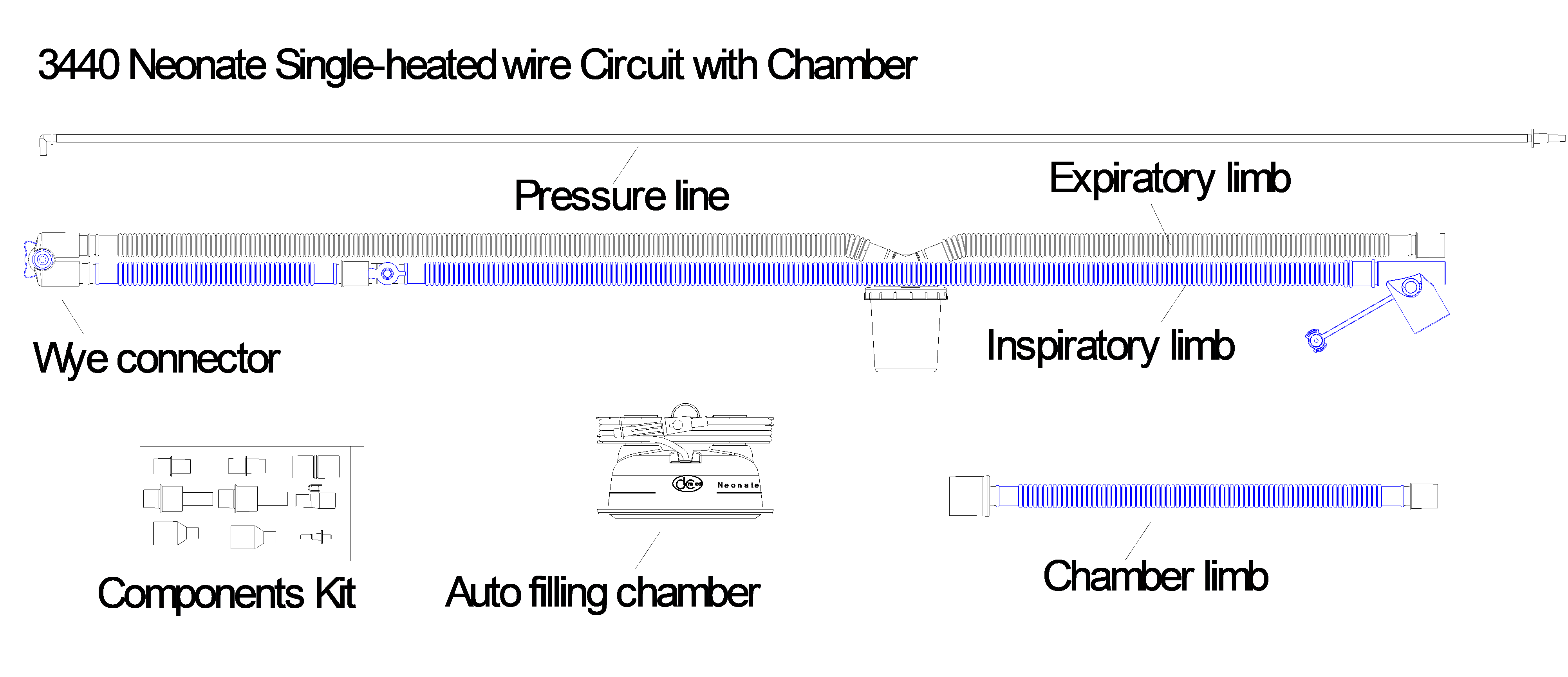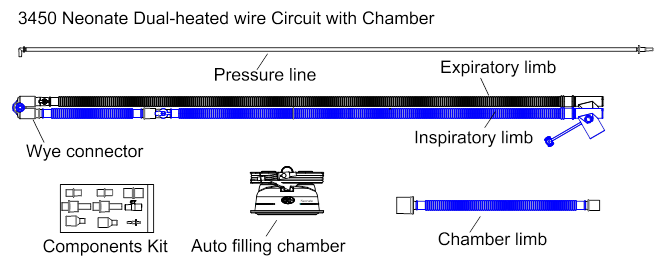 Specification:
Inspiratory limb: 110+30 cm, 22F, MR 850 style humidifier adaptor

Non-heated expiratory limb: 90+60 cm with 55ml watertrap 10M

Heated expiratory limb: 140cm

Patient wye connector: 15F

Temperature port: 7.6F

Chamber limb: 60 cm

Chamber connection ports: 22M
---
Features:
Compatible with major brands of humidifiers.

Unique spiral heated wires for high heating efficiency.

Limbs with heated wires are color coded for easy identification.

Single heated and dual heated models are available.

Meets ISO-5367 standard for breathing tubes.
---
Order Information:
REF

Model

Heated Wire

Description

Package

Accessory

3440

Neonate

Insp.

Single Heated Wire Circuit

1set/bag, 20sets/carton

Chamber, Connector Kit

3450

Neonate

Insp. & Exp.

Dual Heated Wire Circuit

1set/bag, 20sets/carton

Chamber,

Connector Kit

3441

Neonate

Insp.

Single Heated Wire Circuit

1set/bag, 20sets/carton

Connector Kit

3451

Neonate

Insp. & Exp.

Dual Heated Wire Circuit

1set/bag, 20sets/carton

Connector Kit

3445

Neonate

Insp.

Single-heated Wire Circuit with Chamber(Auto-filling) for SLE5000

1set/bag, 20sets/carton

Chamber,

Connector Kit

3449

Neonate

Insp.

Single-heated Wire Circuit with Chamber(Manual-filling) for SLE5000

1set/bag, 20sets/carton

Chamber,

Connector Kit

3446

Neonate

Insp.

Single Heated Wire Circuit for SLE5000

1set/bag, 20sets/carton

Connector Kit

3443

Neonate

Insp.

Inspiratory Heated Wire Circuit with Chamber

(Auto-filling)

1set/bag, 20sets/carton

Chamber, Connector Kit

3484

Neonate

SLE5000 Connector (Restrictor)

1000pcs/bag, 1bag/carton

Bulk package

3495

Neonate

Auto-filling Humidification Chamber

1set/bag, 40sets/carton